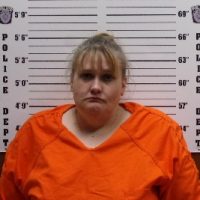 February 13, 2020
By News Director Jared Atha
A traffic stop in Elk City led to the discovery of illegal drugs, and the arrest of a Cheyenne woman.
According to a probable cause affidavit 40-year-old Ashley Michelle Trammell was pulled over on the east side of Elk City early Saturday morning after an Elk City officer observed a brake light not functioning.
After the officer conducted that traffic stop he asked if he could search the vehicle which he was allowed to do by the driver – Trammell. The officer allegedly found in the suspects purse a glasses case that contained a glass pipe, a blue lighter, two straws and two clear plastic baggies containing what would later field test positive to be methamphetamine.
Trammell was arrested and booked into the Elk City Jail and later charged with unlawful possession of a controlled drug with the intent to distribute – a felony.
An attorney date for Trammell has been scheduled for March 9.