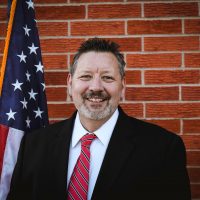 February 13, 2020
By News Director Jared Atha
Another candidate has announced his intention to seek the Beckham County Sheriff's position.
Beckham County Sheriff's Deputy Wes Henry, a republican, made the declaration recently through a press release. Deputy Henry currently serves as the canine handler in the sheriff's office, which he has been a part of for six years.
In his 16 year career in law enforcement Deputy Henry has been involved in various fields including undercover narcotics investigation, sexual assaults, crime scene processing, criminal interdiction, traffic stops and white-collar crimes.
Deputy Henry describes what he envisions for the department if elected.
Deputy Henry also says he would like to see his deputies become more involved in Beckham County communities.
He says that if elected he'll be looking into apply for grant dollars to help fund the department.
Deputy Henry also added that he wants to apply for grants to help victim advocacy organizations in the county as well.
Deputy Henry is challenging current Sheriff Derek Manning for the position. Voters in Beckham County will decided on the two republicans on June 30.