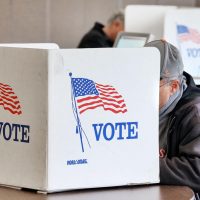 February 12, 2020
By News Director Jared Atha
Voters went to the poll yesterday to decide various school board positions and one bond proposal in Western Oklahoma.
Starting in Clinton, it was narrow but the bond proposal that, if approved, would have seen $29.7 million dollars go towards school improvements garnered 50.4% approval, however failed because it needed a super majority vote, 60%, to pass.
Four area school districts will get to return to the polls in April after not producing a candidate with 50% or more of the vote. In Hammon, Jeremy Moler and Rachel Candy were the top two vote getters in the district. So were Larry W. Peck and Billy Hanes in Sentinel. In Mangum, Staci Vanzant and Charles Callins garnered the most votes and in Carnegie Christi Harrison and Ryan Clark were the top two candidates at the polls.
The general election for the remaining candidates is scheduled for April 7.