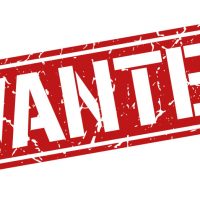 January 14, 2020
By News Director Jared Atha
A second man is wanted after being charged with uttering a forged instrument, a felony, for his suspected involvement in cashing a check intended for another company.
According to a probable cause affidavit a warrant has been issued for the arrest of 64-year-old Louis Wayne Harvey of Oklahoma City after investigators believe he cashed a check from a Weatherford business, intended for an Oklahoma City company. The court document stated that the business owner was able to track the check number and discovered that the check that was made out for just over $4,400 was cashed by the suspect at a Weatherford bank. Weatherford police made contact with the bank officials and were told that for a check that big, tellers are required to make a photo copy of the customers I.D. Officers were able to review security footage from the bank along with the photo copied I.D. with a picture of the suspect that came off of the Oklahoma Department of Corrections web page.
The affidavit stated that Harvey has a lengthy criminal history that included check fraud.
This is the second suspect charged in this case. In December, 26-year-old Justin Charles Mahley of Edmond was arrested and charged with uttering a forged instrument when he also cashed a check from the same Weatherford business, but not intended for him.
A preliminary hearing for Mahley has been scheduled for January 24th.
In all, the business owner has determined that three checks were fraudulently cashed, totaling just over $14,500.