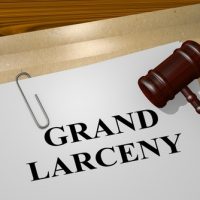 January 13, 2020
By News Director Jared Atha
The theft of an iPhone has netted an Altus man a felony charge in Beckham county.
According to a probable cause affidavit 32-year-old Ronnie Lamonte Lister has a warrant out for his arrest after he allegedly committed the crime at the Elk City Walmart back in October. The affidavit read that the victim had left her iPhone that was valued over $500, along with her wallet that contained, among other things, social security cards, gift cards, and cash, at the self-check out station. The victim reported the missing phone and wallet to the police, who would later contact Walmart officials. After a review of the store's security tape, it was later determined that the victim had mistakenly left the items at the register, and it was allegedly picked up and concealed by Lister.
The court document said that after an investigation and interviews with acquaintances, it was determined that Lister had acted alone in the crime.
The property was later returned to the Elk City police department and ultimately returned to the owner.