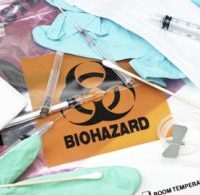 January 10, 2019
By News Director Jared Atha
An Oklahoma City man was arrested in Custer county recently after he was discovered with stolen medical waste that included, among other things, syringes and unused medicine.
According to a probable cause affidavit, 34-year-old Colin Andrew Davis was arrested in Weatherford on the afternoon of December 28 when police were dispatched to a one vehicle accident on east Main street. When officers arrived they found the vehicle Davis had been driving in a ditch, with Davis already exited from the vehicle. Officers noted in the affidavit that Davis appeared off balance, and he would later fail a field sobriety test.
After talking with the defendant, and after searching the vehicle, it was determined that Davis had been drinking whiskey earlier in the day and had allegedly stolen medical waste from his previous employer. The court document stated that officers found numerous vials of Fentanyl and another vial of Ketamine. The waste was allegedly taken out of a locked bin behind the business. During an investigation, officers found that the lock to the bin had been removed and could not be located. Items determined missing included sharp containers that include sharp medical waste including syringes, and the vials of medicine.
Davis was booked into the Weatherford City Jail and was charged with driving while under the influence of alcohol or drugs and larceny, burglary or theft of a controlled dangerous substance. Davis' first court appearance is scheduled for January 13.