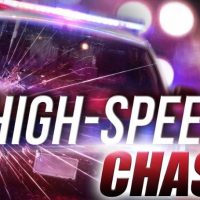 January 9, 2020
By News Director Jared Atha
An Elk City man was arrested recently after leading an Oklahoma Highway Patrol trooper on a high speed chase through Beckham County.
According to a probable cause affidavit the pursuit took place December 29, when a trooper traveling southbound on State Highway 34 clocked a truck traveling northbound at 90 miles per hour in a posted 65 miles per hour zone. The trooper attempted to pull the truck over however the truck, driven by 32-year-old Joshua Ray Reynolds, refused to pull over, leading the trooper through county roads at a high rate of speed. The affidavit stated that it took the trooper two tactical vehicle intervention maneuvers to disable the vehicle and arrest Reynolds. It was noted in the report that Reynolds allegedly had slurred speech and pinpoint pupils.
During a search of the vehicle, officials allegedly found marijuana, needles, and a plastic bottle cap with a cotton ball with a white powdery substance.
Reynolds was booked into the Beckham County Jail and later charged with, among other things, endangering others while eluding a police officer, driving while under the influence of drugs, and possession of a controlled dangerous substance.
Reynolds next court appearance is scheduled for January 27.