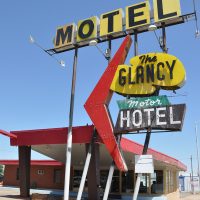 January 9, 2020
By News Director Jared Atha
The Clinton City Council met recently and held continued discussion regarding the historic Glancy Motel on Route 66.
City Manager Mark Skiles says the city has taken steps in condemning the Motel and after an executive session, the council approved an agreement between the owners of the motel, and the city.
The city started the condemnation process in August when, according to an article from the Weatherford Daily News code enforcement officer Toby Anders had been dealing with the property for more than three years regarding violations there.
The Glancy Motel seemed to go into decline after a fire destroyed the iconic and adjacent Pop Hicks restaurant in 1999. The restaurant, which lacked insurance, was never rebuilt.