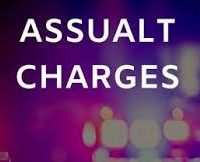 December 3rd, 2019
By News Director Jared Atha
A Clinton man was arrested recently after he allegedly abused two women. According to a probable cause affidavit 53 year old Curtis Lee Allison has been charged with two counts of domestic assault and battery by strangulation, assault and battery with a dangerous weapon, and felonisously pointing a firearm.
The incident occurred on November 17th when, according to the affidavit, Clinton police were dispatched to a private residence in reference to a physical domestic in progress. When an officer arrived a female victim, later identified as the suspect's daughter-in-law was outside the home and appeared to have suffered injuries to her face and nose. She stated that the suspect was still in the home with children. During a later interview with police, she said that the suspect came into the home, allegedly threatened to kill her, and choked and hit her several times.
The officer then met with another victim, who said she had allegedly been chocked and hit by the suspect. She also said that the suspected allegedly put a small gun to the back of her head.
Officers made contact with the suspect where he allowed them to search the home for the gun, which they were able to locate and secure. Allison was arrested and booked into the City of Clinton Jail.
Court records show both victims have since filed protective orders against Allison.
Allison is due in court December 20th for a preliminary hearing.