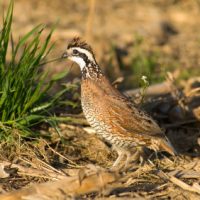 November 6th, 2019
By Jared Atha
Despite encouraging numbers out of the state of Texas, the quail population in western Oklahoma is still below average.
According to the Texas Parks and Wildlife Department, wildlife biologists predict average to above-average prospects across most of the state, that includes the Texas Panhandle north of Interstate 40.
However, according to Oklahoma Game Warden Lt. James Edwards, the bird population in central-western Oklahoma has increased slightly when compared to last year, but the numbers still appear to be low.
It's not all doom and gloom for quail hunters. Lt. Edwards says the quail population in northwest Oklahoma looks encouraging.
With Oklahoma's quail season about to kick off, Lt. Edwards reminds hunters to continue to practice safety.
Quail season in Oklahoma opens Saturday and runs until February 15th. The hunting season for quail in Texas has already begun and will wrap up February 23rd.