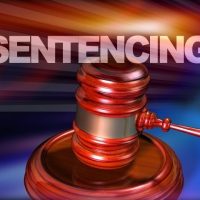 August 30th, 2019
By Jared Atha
A convicted felon who was found guilty of trafficking illegal drugs, carrying weapons, and obstructing an officer was sentenced recently in Custer County District Court.
30-year-old Aaron Dewayne Williams has been sentenced to 5 years in jail, however he will be credited for time spent.
The incident took place nearly a year ago when Williams was arrested in Weatherford after allegedly threatening a resident in his home by knife point and stealing items from inside his home.
According to a probable cause affidavit, Weatherford police found Williams, who matched the description given to them by a resident in a home in the 200 block of East Arapaho, in a vehicle that also matched the description, a red older model Chevrolet Blazer with a broken rear window.
The court document says Williams knocked on the door of the home and accused the victim of stealing a laptop from his Blaze and as the two argued, Williams pulled a knife and pointed it at the victim's face. Then, a second man appeared and entered the home and stole a curl bar from his living room and after leaving the residence, Williams then entered the home taking $50 in cash from off a table near the victim's TV and then left.
After police arrested Williams in his vehicle, a search was conducted of the Blazer. Officer's allegedly found a clear plastic baggy inside an open backpack that contained a white crystal-like substance that later tested positive for methamphetamine. Another baggy contained what police believe to be marijuana along with a large amount of empty, clear baggies. Also allegedly found were 17 new, capped syringes, a rusty fixed blade knife, two clear glass pipes with burnt residue and a BB pistol, first thought by police to be a real firearm. Also found was a black curl bar in the back seat.
The meth was later weighed and found to be 51-grams while the marijuana weighed about 8 grams.
Police found that Williams was actually wanted by the Oklahoma Department of Corrections for escaping from a half-way house where he had been residing.
Williams was previously convicted of second degree burglary, distribution of a controlled substance and possessing a firearm, along with multiple other weapon and narcotic related charges and convictions.