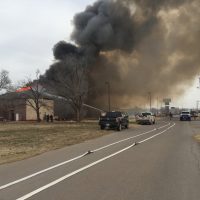 March 7, 2019
By Paragon News Director Paul Joseph –
An extended stay hotel in Sayre was destroyed by fire earlier today.
No one was hurt in the fire that consumed the WindGate Extended Stay Hotel located on Business 66 in Sayre, but the State Fire Marshall has been called in to investigate.
The complex consisted of 48 furnished units in a two-story configuration. Those units are thought to have been empty. Lonnie Risenhoover, Beckham County's Emergency Management Director, says the property is going through foreclosure proceedings.
Sayre Police Chief Ronnie Harrold says it appears to be a complete loss.
According to witnesses on the scene, the facility was observed to be on fire as early as 11:30 Thursday morning. It's black bellows of smoke could be seen from several miles away.
The WindGate Hotel, located at 701 Iowa Street, across the street from Hutch's C-store and next door to Southwestern Oklahoma State University, Sayre campus, opened during the height of the most recent oil boon around 2013.
– 30 –