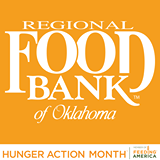 October 18, 2016
By Paul Joseph, News Director
Across the state of Oklahoma and here in western Oklahoma, more than $485-thousand-dollars has been raised for the Regional Food Bank of Oklahoma's "Food for Kids" programs.
"Food for Kids," an umbrella support program that carries out a number of other programs is designed to fight childhood hunger in western and central Oklahoma. From August 1 through September 30, every childhood-hunger gift made was matched, up to $150-thousand dollars, and donors throughout the state responded by exceeding the matched goal.
According to Lara Lang, vice president of development at the Regional Food Bank, her non-profit is grateful for everyone's support. She says the generous matching gifts from The Masonic Fraternity of Oklahoma, Top of the World, David Gorham and two anonymous families will make a significant impact in the food bank's ability to feed children struggling with hunger this fall.
She says she's also grateful for their help and for the amazing response from the community, to help the one in four children who struggles with hunger every day.
In total, the match will support 2,424 students in Food for Kids for an entire school year.  Last school year, the Regional Food Bank provided the equivalent of nearly 3 million meals to chronically hungry children through Food for Kids childhood hunger programs, which includes the Backpack Program and School Pantries.
Through the Backpack Program, children receive a backpack full of kid-friendly, non-perishable and nutritious food on Friday to sustain them over weekends and school holidays.
Last school year, more than 18,800 students in 517 schools participated in the Backpack Program.
In Beckham County alone, 173 students in six schools participated in this program.  Schools included: Fairview Elementary School, Grandview 5th and 6th Grade Center, Merritt Public Schools, Northeast Elementary School, Pioneer Elementary School and Sayre Elementary School.
The School Pantry Program provides chronically hungry middle and high school students with food to sustain them after school and over the weekends.
The School Pantry Program ended last school year serving more than 5,100 students in 152 middle and high schools.  In Beckham County alone, 33 students in three schools participated in this program.  Schools included: Elk City High School, Elk City Intermediate High School and Elk City Middle School.
According to the latest press release, donations are still needed to ensure that children in western and central Oklahoma have enough to eat.  The donation is tax-deductible.
The Regional Food Bank of Oklahoma is the state's largest private, domestic hunger-relief organization and a member of Feeding America's network of Food Banks.
The nonprofit provides enough food to feed more than 176,000 hungry Oklahomans each week through a network of more than 1,300 schools and charitable feeding programs in 53 central and western Oklahoma counties.  Since its inception in 1980, the Regional Food Bank has distributed more than 644 million pounds of food to feed Oklahoma's hungry.
–             30              –