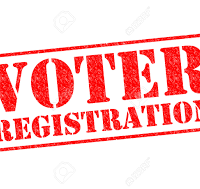 July 28, 2016
By Paragon News Director Paul Joseph  –
Tomorrow is a voter deadline for Clinton and Weatherford voters.
Custer County Election Board Secretary Ann Brown is reminding Clinton and Weatherford area voters that if they want to be eligible to vote in the August 23, Ward 2 and Ward 4 elections, tomorrow (Friday) is the last day to register.
Weatherford voters will vote for candidates for Ward 2 and 4, while Clinton voters vote for candidates in only Ward 2.
Persons who have never been registered to vote or who are currently registered but need to change their registration information may apply by filling out and mailing a voter registration application form in time for it to be postmarked no later than midnight tomorrow (Friday) night.
Applications postmarked after that will still be accepted and processed, but Brown said those applications wouldn't be approved until after August 23, thus missing the election opportunity.
Brown says persons who are United States citizens, residents of Oklahoma and at least 18 years old may apply to become registered voters. In order to vote in the municipal elections, persons must also be a resident of Clinton or Weatherford, respective to their Ward.
–             30              –