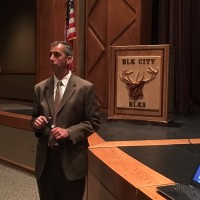 July 27, 2016
By Paragon News Director Paul Joseph  –
Over 300 people turned out to a public dialogue on a number of Elk City Public School issues, but it quickly became an agitated discussion against the district's defined dress code, commonly referred to as school uniforms.
The open forum discussion Tuesday night at the high school was initiated and led by new Elk City School Superintendent Rick Garrison who has felt that the issue has been divisive long enough and wanted to move beyond it.
Garrison, who just took the reigns as superintendent 27 days ago, felt as though there was good discussion and good rapport with the mostly female audience that appeared to all be united in their consensus.
The public meeting that administrators called for, officially, on Wednesday, July 20, included a discussion of a new graduation policy and the announcement of new technology that the district recently purchased. Though the items were later discussed, many of the parents left after the initial discussion of the district's defined dress code.
Garrison, being new to the position, wanted to begin his tenure with good communication with the district's parents and felt an obligation to talk with them about the dress code issue with the desire to get the issue put to put behind him in order to move on to other more pressing matters.
The district is additionally drafting changes in the current student dress code and will discuss the changes at the next board meeting. The draft of new changes was also disseminated during Tuesday night's public meeting.
Now, with the input of the recent public meeting and discussion, that special school board meeting is expected to be called very soon.
The Elk City School board and school administration implemented the defined dress code in school year 2008-2009, eight years ago.
–            30              –