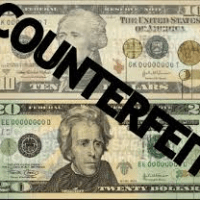 July 27, 2016
By Paragon News Director Paul Joseph  –
Elk City Police is warning area customers and store owners and managers to be on the lookout for phony money that's being passed in the Elk City area.
Police Chief Eddie Holland says he's received a number of reports in the last two days of the fake money, mostly 50s but also 20s and ten dollar bills, being passed. He specifically mentioned that the money has been spotted at the Elk City Wal-mart, Atwoods and Sonic.
Holland says it appears that the bills are on original US Treasury paper but that the bills have been washed.
He says with the fairly large number of complaints of the counterfeit money floating around Elk City, customers and store owners need to be extra careful when exchanging currency.
He says his department is vigorously working the case and the Elk City Police Department is additionally working with other surrounding law enforcement agencies, but he's received no word yet whether the phony money has been passed in other communities at this time.
Holland says he's not aware if the counterfeit money is being passed by someone local or if it's – what he calls – "an I-40 thing" in that travelers from out of the area may be passing through passing the money for needed supplies during their travel.
He says he will additionally use his department's Facebook page as a media outlet getting out the warning.
He hopes to have a suspect description, soon.
–            30              –