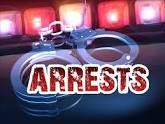 July 26, 2016
By Paragon News Director Paul Joseph  –
Two of a possible three people from Elk City have been arrested on illegal drug charges.
35-year old Anthony Salas and 33-year-old Christina Renea Riley were arrested last week on possession of a controlled substance in the presence of a minor and a warrant is out for Riley's sister, Brandy Riley on the same charge.
Warrants for each of their arrests were executed on June 1 and came from a single incident in April of this year.
According to a probable cause affidavit, while police were investigating a possible robbery from a local Elk City motel, their search led them to a home in the 200 block of Blackburn.
When officer's arrived at the home, the report says, they found Christina Riley sitting on the floor in the front doorway along with a one-year old female. The report says an officer immediately detected a strong odor associated with marijuana.  Giving the officer permission to look around the house, he allegedly found a green leafy substance laying on top of a bed in plain view and a pipe commonly used to smoke methamphetamines, the report says.  Riley told officers the pipe wasn't hers.  Also allegedly found were two more smoking pipes, one for marijuana and another used for meth.
The Department of Human Services was called and two DHS workers took the one-year old female and two infants from the residence to stay with a relative.
The report also says that due to the fact that Riley was recovering from a recent C-section and was still in pain, he decided not to arrest either Salas or Riley. The two agreed to speak with the officer the following day.
Also on the following day, Riley's sister, Brandy Riley went to the police station to tell officers that the dope pipe and the weed pipe allegedly found by police were hers. Later, after questioned by police, she allegedly changed her story and told police that Salas' prints would be found on one of the pipes, saying that while her sister was in the hospital, she and Salas were "getting high and fixing up the house."
Bond is set for Salas and Christina Riley at $20-thousand dollars while Brandy's bond is $10-thousand dollars.
Christina Riley was arrested Friday and is in the Beckham County Detention Center while Salas was arrested Saturday and remains in the Elk City jail today. Brandy Riley is still being sought by police.
No court date has been established for any of the suspects.
–             30              –