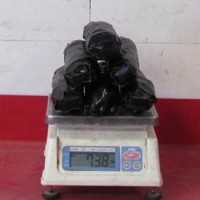 July 26, 2016
By Paragon News Director Paul Joseph  –
Texas Troopers have made a sizeable drug bust along Interstate 40 and arrested three people.
Texas Department of Public Safety Troopers seized over seven-pounds of Methamphetamine Saturday after a trooper stopped a 2016 Jeep Patriot in Carson County.
Around 7 am, the trooper stopped the vehicle traveling east on the interstate with three people from California inside for a traffic violation. The trooper allegedly discovered six bundles of meth inside a dog food bag in the vehicle with an estimated street value of $644-thousand dollars.
The driver was identified as 23-year-old Breanna Adame of Irvine and the passengers were 27-year-old Melanie Godinez of Santa Ana and 24-year-old Andre Hampton of Tustin, California. They were arrested and charged with felony possession of meth and were transported and booked into the Carson County Jail.
Investigators believe the drugs were being transported from California, through Texas and Oklahoma to Arkansas.
–             30              –