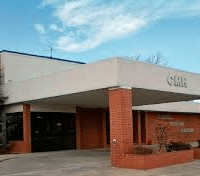 July 25, 2016
By Paragon News Director Paul Joseph  –
Renovations continue at Cordell Memorial Hospital.
CEO Landon Hise says the hospital has just completed phase two of a $3-million dollar, three phase renovation at the hospital.
Phase two involved new flooring and paint throughout most of the hospital and new interior and exterior signage as well as the renovation of four remaining patient rooms, an ER nurse's station and a trauma room.
Phase one was completed in April. He says it began last October and included an electronic health record computer to each room, new electrical wiring and a new HVAC system as well as medical gas, insulation, countertops and a nurse call system.  He says it was the largest project of the three phases.
Phase three will include an ER room, and ER waiting room, a new triage room, main nurse's station and flooring throughout.
Hise says that the hospital's annual health fair had to be moved earlier in the year in order to complete some of the renovation and he hopes to be able to announce a date soon as the renovation completion becomes more realistic. He says that's when they'll also hold an open house to show off the like-new facility.
He anticipates that all three phases should be complete in September.
–            30              –