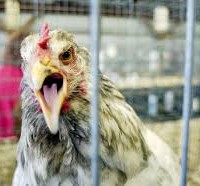 July 25, 2016
By Paragon News Director Paul Joseph  –
Beckham County Commissioners have kicked the chickens out of the fair barn.
After getting a bad taste in their mouths from an earlier experience, commissioners have turned down a bid from a new organizer that wants to hold poultry auctions in the Beckham County Fair Barn, also called the activity barn.
Ronald Putnam and Chinch Yake were at a recent meeting of the county commissioners to make the request. They are both aware that other organizers have held poultry auctions in the fair barn and they're aware these organizers are no longer welcome to do so.  According to the commissioners, the former organizers left the building dirty and were difficult to work with.
Still, Putnam and Yake approached commissioners with the opportunity.
District 2 Commissioner Buddy Carnes pointed out that some chickens could be sick or bring disease.
District 1 Commissioner Carl Don Campbell didn't say no, permanently, but for right now, he has a bad taste in his mouth.
Putnam and Yake have been involved in the selling and trading of poultry for a number of years and active in attending poultry auctions. Putnam pointed out to the commissioners the tourism revenue the auction brings to an area.
Though the two men were disappointed, Yake seemed to understand the commissioner's position.
Putnam says it'll take a while for the commissioners to get over a negative experience with the last auction organizer.
The two area men are disappointed that they'll have to attend poultry auctions out of the area, but hope to be back to the county commissioners again, sometime in the future with the same request.
The Beckham County Commission meets every Monday at 9 am in the county commission chambers at the court house.
–             30              –