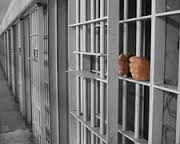 July 22, 2016
By Paragon News Director Paul Joseph  –
An Oklahoma City man has been sentenced to serve time in the Oklahoma Department of Corrections after pleading guilty to felony charges.
56-year-old Michael Shawn Blevins, a formerly convicted felon, recently pled guilty to drug and firearm charges and received three years in prison with 20 days to serve and the balance suspended on both charges.
Blevins was arrested by Elk City police in May after they were sent to the Wal-Mart parking lot regarding a suspicious person report.
According to a police report, just minutes after midnight, a man was seen shining a flash light around the parked cars. When police arrived, they spotted a blue Honda backed into a parking space with only one subject inside.  Blevins was found in the back seat shining a light.  He was allegedly seen with a syringe in his hand, attempting to stick himself, using the flashlight to see.
When he saw police, he tried to conceal the syringe in his right hand, the report says. He then tried to palm the syringe in a cheetah print bag on the seat beside him, but as he was moving the bag, officers say the handle of a M&P shield handgun was seen in the bag.
Blevins told police that he was diabetic and was giving himself a shot of insulin. When asked if he was type 1 or a type 2 diabetic, he stated type 1.
The officer then stated that only type 2 diabetics need insulin at which point Blevins hung his dead and allegedly stated, "You know what it is."
Inside the bag, police found 6 baggies containing various quantities of a white crystal like substance believed to be methamphetamine.
He pled guilty on June 7 to possession of a controlled, dangerous substance and possession of a firearm after former felony conviction and was given credit for time served. After serving his time, he'll be evaluated periodically, ordered to attend 12-step meetings and on probation.
–             30              –