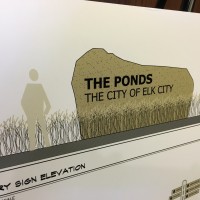 July 21, 2016
By Paul Joseph, Paragon Communications News Director –
Elk City was honored today (Thursday) for the city's commitment to improving health and quality of life as the community received a TSET, Healthy Community Incentive Grant.
Dignitaries from Oklahoma City and the area were present with community and city leaders as city officials received a $45-thousand-dollar check for adopting policies and strategies that promote health and quality of life issues.
Elk City will use the money for engineering and design landscape of its existing 36-acre park for walking, biking and outdoor activity.
City Manager Lee Litterell was first to the microphone at the 11 am presentation ceremony at City Hall to elaborate on how the project, "The Ponds," money will be spent.
TSET offers incentive grants to eligible communities that have met criteria established for the program such as tobacco-free policies, availability of fresh fruits and vegetables and increasing opportunities for residents to become more physically active.
According to TSET Executive Director Tracey Strader, the collaboration between the city and "health champions" in Elk City is creating strong partnerships that promote a healthy and vibrant community.
Litterell also gave credit to city staff that came up with the idea and wrote the grant.
Oklahoma Commissioner of Health, and Secretary of Health and Human Services, Dr. Terry Cline also attended the celebration and praised Elk City for its commitment to improving health.
Cline said Elk City has done a great job in creating an overall culture of health.
This is the second Healthy Community Incentive Grant Elk City has received. In 2012, the TSET Board of Directors awarded a $5-thousand-dollar grant for a disc golf course at the Lake Park.
–            30              –