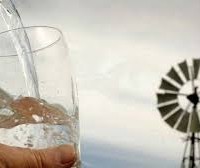 July 12, 2016
By Paul Joseph, Paragon Communications News Director –
An area water district is putting their recently acquired REAP grant to work.
Beckham County Commissioners recently opened bids for Rural Water District Number 1 for a telemetry and master meter project.
According to District One Project Manager Kim Hornbuckle, the new expenditure will positively impact both efficiency and cost.
REAP grants or Rural Energy for America Program grants, are issued through the USDA and administered in Western Oklahoma by SWODA, the South Western Oklahoma Development Authority.
The total cost of the project is $97-thousand dollars and the REAP Grant is for just under $70-thousand dollars. The water district is responsible for the balance of the total cost.
Telemetry is an automated communications process by which measurements and other data are collected at remote or inaccessible points and transmitted to receiving equipment for monitoring.
The lowest bid opened at the commission meeting on Monday was provided by Lonehickory Cattle Company out of Talihina. One of the partners, Robert Knowles was present at the commissioner's bid opening.
Hornbuckle will verify and approve the notice for Knowles and his company to proceed within a few days.
–              30              –