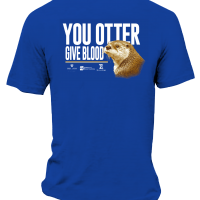 July 8, 2016
By Paul Joseph, Paragon News Director –
Clinton-area residents have the opportunity to literally save lives Monday as the Oklahoma Blood Institute Bloodmobile comes for a visit.
No one will need to rush into a burning house or perform a deep water rescue. Instead, anyone who is healthy and 16 or older can give blood and experience the satisfaction of saving the lives of as many as three people.
The bloodmobile will be at the Clinton Indian Health Center located at 10321 North 2274 Road for the blood drive that runs from 10 am until 3:30.
Each donor will receive a voucher, redeemable for two tickets to the Oklahoma City Zoo and a T-shirt featuring the zoo's otter with the words, "You Otter Give Blood."
Summer is a time for fun including visits to the zoo. But, OBI's president and CEO, John Armitage says, "First we can ease concerns for those in our area who need blood as they battle illnesses or accidents."
Because there is no substitute for blood, the supply must constantly be renewed for patients in local hospitals.
Although all blood types are needed, those with O-negative type blood are especially encouraged to donate. According to the American Association of Blood Banks, AABB, those with O-negative blood make up only nine-percent of the national population.  However, O-negative blood can be used by anyone in an emergency situation when a patient's blood type has not yet been identified.
OBI is the ninth largest, non-profit blood center in America, providing every drop of blood needed by patients in 161 state medical facilities including hospitals throughout Paragon Communications listening area.
–              30              –