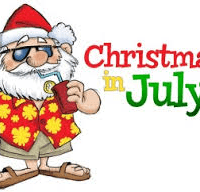 July 7, 2016
By Paul Joseph, Paragon Communications News Director –
The water level at Foss Lake is up, the campground is beautiful and every dock is open for visitors to enjoy the 26th Annual Foss Lake "Christmas in July" celebration.
Foss State Park Manager, Barry Hardaway says the event is planned for the entire family and plenty of vendors will be around to make life fun.
Hardaway says the family event that starts tomorrow, Friday, pays tribute to veterans and the military as it salutes those who served our country.
In all the hustle and bustle, however, sometimes we forget what made and keeps us free.
The event's opening ceremony comes at 6 pm at the Main Stage which is located north of the Marina on Cedar Point. Hardaway says that's where veterans and the current military will be honored.
But the fun actually begins well before the opening ceremony with vendors in place at 1 pm for the opening of Christmas in July.
Hardaway says this year there'll be a lot of new events and some of the same old, fun events as in past years.
One of the new activities is a "bike show" following the veteran's program and a special Flag Retiring Ceremony offered by the Western Plains District, Boy Scouts of America.
Friday activities run almost non-stop from 1 pm until lights out at 11. Saturday's events begin at 7 am with a Dam Color Run and activities also run until 11 pm.
The opening ceremony at 6 pm on Friday will be officiated by the Altus Air Force honor Guards and the Cheyenne Community Choir who'll additionally be honoring veterans on the main stage.
–            30              –