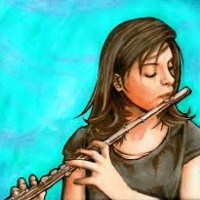 July 6, 2016
A fundraising concert benefitting an upcoming trip for the SWOSU Flute Choir is planned for next week.
The Southwestern Oklahoma State University choir is one of 24 choirs recently selected to perform at the 45th annual National Flute Association Conference held later in the year in San Diego.
Funds raised at the Saturday, July 16 concert will help support expenses related to the NFA performance.
The SWOSU concert will be held at 3 p.m. in the Berrong Recital Hall on the Weatherford campus. The program will feature flute choir works by Via, Chamberlain and Offermans as well as additional chamber and solo performances.
A dessert reception will follow the performance. The event is free and open to the public but a $10 suggested donation is welcome at the door.
The concert will serve as a preview for the San Diego performance where the SWOSU choir will perform alongside university and professional flute choirs from Japan, Taiwan, Mexico, California, Texas, Utah, and Arizona.
The 45th annual National Flute Association Conference will be in August.
–              30              –