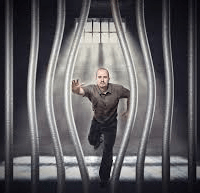 July 6, 2016
By Paul Joseph, Paragon Communications News Director –
A Clinton man has bonded out of jail on two counts of second degree burglary.
42-year-old Travis Wayne Gauger was in District Court Wednesday morning for his initial appearance on the charges after police arrested him earlier in the week for two, separate June burglaries.
According to Clinton Detective Captain Mike Murley, Gauger was identified in security video from nearby businesses of a store burglarized on June 27, Clinton Auto Glass in the 100 block of Gary Boulevard.
A large safe containing money was reported stolen the next day by the owner. Murley says Lomax Lee told investigators that he'd gone into a storage room in the back of the building where he keeps a safe weighing between 600 and 800 pounds and it was gone.  He added that it was approximately three feet tall by two feet wide.
Murley says officers canvassed the area but couldn't find any signs of forced entry. Finally, security footage from three nearby businesses was able to piece together enough evidence that implicated Gauger.  He says the vehicle in the video led officers to him.
When he was interviewed, Murley says police were able to piece together enough evidence that implicated Gauger in an earlier burglary, early one on June 22 at Weldon Parts on south Highway 183. There, employees arrived at 8 am and found the supply company broken into though its alarm hadn't been activated.  Workers found a padlock on an office door pried off and money missing.
Through questioning on the Weldon Parts burglary, Murley says investigators were also able to find enough evidence to charge Gauger in the latest burglary at Clinton Auto Glass.
As policy, Murley wouldn't elaborate how much money was taken in either incident. He also added that they've not been able to find the 600 pound safe, either.
Gauger is due back in Custer County District Court on August 12 for a preliminary hearing conference.
–             30              –