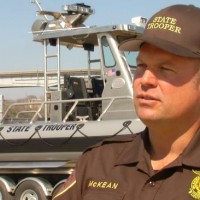 July 1, 2016
By Paul Joseph, Paragon Communications News Director –
The body of an 18-year-old Texas man was recovered yesterday (Monday) afternoon from Lake Altus – Lugert.
The Marine Enforcement Division of the Oklahoma State Highway Patrol found Jessie Ramirez's body in 20 feet of water about 8:19 Monday evening using side-scan sonar and a drag tool.  His body was transported to Ray & Martha's Funeral Home in Hobart where he was pronounced dead by a medical examiner.
According to the Oklahoma Highway Patrol, Ramirez and three other male subjects went swimming at the HorseHead Cove area at the lake at noon. Witnesses say Ramirez submerged and never resurfaced.
His body has been sent to the Oklahoma City Medical Examiner's Office.
–             30              –