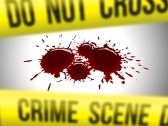 September 25, 2015
By Paul Joseph, Paragon News Director –
A Roger Mills County man has been arrested after a stabbing incident in Elk City.  The suspect reportedly licked the knife blade following the stabbing.
According to an Elk City police report, 30-year-old Clinton William Corbin of Oklahoma City was taken into custody last Thursday, September 17, for the incident that involved the son of the woman Corbin is dating.
The report says Corbin, the boyfriend along with his girlfriend and her son were taking the son to his residence when Corbin and the victim began arguing and then fighting in the vehicle.  The mother, who was driving, stopped the vehicle on the roadway while the victim jumped out running down the street with Corbin close behind.  The victim fell on his back as Corbin jumped on top of him allegedly trying to stab him in the stomach with a pocket knife.
The victim told officers that Corbin deflected attempts to his stomach but Corbin was able to stab him in the side of his lower left leg.  When Corbin pulled the knife out, the victim says, Corbin licked the blood off both sides of the blade.  He then got back into the vehicle with his girlfriend and they two drove off.
When police made met Corbin at a Roger Mills County residence, Corbin allegedly told officers, "I know why you're here.  I stabbed him and here is the knife," pulling out a black pocket knife.  He was placed under arrest and taken to the Elk City jail where he was booked in for assault and battery with a dangerous weapon.
During a later interview, Corbin told investigators that he was "tired of seeing how the victim treats his mother and is always wanting her to give him pills."  Corbin stated the argument began when the victim began hitting the back of the driver's seat where the mother sat.
Corbin allegedly said he stabbed him to teach him a lesson and then admitted he licked the knife blade to make the victim think he was crazy.
Corbin also told police that he and Christopher are the same age and grew up together and that he loves the victim's mother and wasn't going to watch him treat her that way.
Corbin's preliminary hearing is set for November 24 in Beckham County District Court.
–     30     –