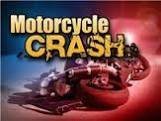 April 13, 2015
By Paul Joseph, News Director –
A motorcycle accident near Sentinel has sent two people to the Clinton hospital arriving in stable condition.
44-year-old George Kirby and 22-year-old Ashley Jacobs, both of Hobart, were taken to Clinton Regional Hospital Sunday afternoon after the 2015 Harley Davidson motorcycle they were riding departed a state highway and made contact with a ditch.
According to the Oklahoma Highway Patrol, they were northbound on State Highway 44 near County Road 2140 in Washita County when they wrecked due to an unsafe speed.
The accident happened about 2.4 miles north of Sentinel at 1:37 Sunday afternoon.
 –     30     –