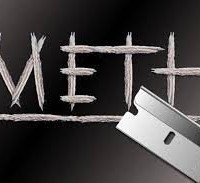 February 17, 2015
By Paul Joseph, News Director –
An Elk City woman is in jail on Methamphetamine charges.  The 40-year-old was driving west on 5th street with a defective fog lamp on her car.
According to a police report, an Elk City Police Officer pulled Trina Rene Brown over recently near 5th and Calloway Avenue.  She handed officers a Texas driver's license, but dispatch informed the officer that it wasn't eligible so she was placed in hand restraints.
When officer inventoried her vehicle, besides removing two handbags and four cell phones, they also found a .22 caliber revolver.  She told police she'd forgotten it was in there.  When asked if there was anything illegal, she responded that she didn't think so.
During book in at the city jail, police additionally found a small yellow plastic container with small crystal-shaped rocks, a keychain containing more crystal-shaped rocks and a set of weight scales.  When asked, Brown told the officers the substance in the keychain was meth.  The report also says that she then lowered her head and looked down and allegedly added that the scale was for measuring the meth.
She's being held on two different charges with two different bonds in the Beckham County Detention Center.  She's charged with possession of a controlled, dangerous substance and possession of drug paraphernalia with a bond amount of $20-thousand-dollars.  She's additionally being held on a $50-thousand-dollar bond for trafficking in illegal drugs.
Brown's preliminary hearing is set for April 7.
–     30     –