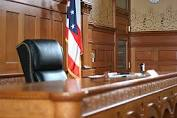 January 26, 2015
By Paul Joseph, News Director –
An Elk City man has been bound over and has waived a speedy trial after being charged with rape with a child under sixteen.
40-year-old Juan Manuel Morales recently appeared in court with his attorney and was ordered to have no contact with alleged victims of which there appeared to be more than one that he allegedly raped, possibly three in the Elk City area.
Morales was arrested September 11 of last year in El Reno after he was the subject of an investigation which occurred two years prior involving the alleged abuse of an 11-year-old.
He was charged in Canadian County with one count of rape in the first degree and one count of lewd acts with a child under sixteen.
Morales was arrested by El Reno police officers in the parking lot of a convenience store.   According to the El Reno Police Department, through cooperation of the victim and the victim's family, contact with Morales was made through a social media outlet, Facebook.  Morales went to El Reno with the intent to meet the juvenile victim.
He was then arrested two weeks later by Elk City Police for rape in the first degree and sexual battery regarding one or more cases in Elk City.
After Morales' September 11 arrest, Elk City Police Chief Holland issued a press release asking the public to contact law enforcement regarding any alleged abuse.  Chief Holland says there have only been the three youths come forward so far, but the appeal by the police chief – and now Detective Cook is ongoing.
His bond was initially set at $500-thousand dollars but was reduced on January 15 to $50-thousand dollars where he and his counsel waived his preliminary hearing.
His next trial date in Beckham County is set for May 6 and has a pre-trial court date on May 8.
–     30     –