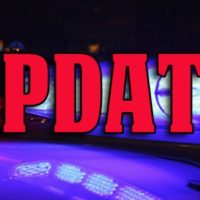 January 22, 2021
By News Director Jared Atha
Updated: 8:54pm
According to Elk City Police Chief Eddie Holland, the man wanted in connection with the death of a 2-year-old child has turned himself in to the Beckham County Sheriff's Office.
Authorities say an arrest warrant was issued for 24-year-old Troy Justice Jones of Elk City. Jones was charged with first-degree murder, child abuse late Friday afternoon.
The case began Wednesday night when, according to Holland, 911 received a call on Wednesday evening in reference to a child suffering injuries to the head due to a fall. Elk City Medical Emergency Ambulance Services were dispatched to a home in the 900 block of Avenue C, where they would immediately transport a 2-year-old male to Great Plains Regional Medical Center. Ambulance personal would also notify the Elk City Police of the situation.
Chief Holland said after hospital personal conducted their initial medical assessments of the injuries, they made immediate arrangements for the child to be transported to OU Medical Center in Oklahoma City for further treatment.
Unfortunately, according to the Oklahoma Medical Examiners Office, the child would succumb to his injuries Friday morning. Holland said the Medical Examiners Office would conduct an autopsy to determine the official manner of death.
Holland said due to the nature of the incident, Elk City Police Detectives along with Oklahoma State Bureau of Investigation Crime Scene Technicians served a search warrant on the home where the child sustained the fatal injuries.
This is a developing story.