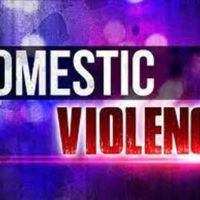 January 25, 2021
By News Director Jared Atha
An Elk City man was arrested and charged recently after allegedly pushing a woman out of a car, onto a road with oncoming traffic.
Fortunately the woman was not hit by a vehicle, however the woman did suffer injuries to her right arm, shoulder, and hand.
According to a probable cause affidavit, 41-year-old Tyson Wayne Tate was arrested on January 18 by a deputy with the Beckham County Sheriff's Office after the department was contacted by medical personnel of a possible assault and battery case.
The report stated that the female victim told the deputy that her and Tate were arguing while in their vehicle. When the argument escalated, she told the deputy that she pulled to the side of the road. That's when Tate allegedly became enraged and shoved the woman out of the car, through the drivers side, and into the roadway. She stated that she landed on her shoulder and arm and that there was oncoming traffic, but was able to avoid the vehicles.
The report said that Tate would return and offered to take the woman home. The woman however said she needed medical attention for her injuries. The woman told the deputy that's when Tate told her to tell authorities that she obtained the injuries by falling off her horse.
After interviewing the woman, the deputy along with Sheriff Derek Manning were able to locate and arrest Tate later that day.
Tate was transported and booked into the Beckham County Detention Center and received one felony charge of domestic assault and battery resulting in great bodily harm.