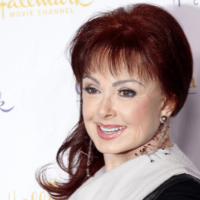 The Judds were inducted into the Country Music Hall of Fame on Sunday, just one day after Naomi Judd died unexpectedly at age 76. The country music world mourned Naomi Judd while also celebrating this year's four Hall of Fame inductees: The Judds, Ray Charles, Eddie Bayers and Pete Drake.
The Judds — mom Naomi, and daughter Wynonna Judd — were among the most popular duos of the 1980s, scoring 14 No. 1 hits during their nearly three-decade career.  Wynonna and her sister, actor Ashley Judd,  accepted the induction amid tears, holding onto each other and reciting a Bible verse together. "I'm sorry that she couldn't hang on until today," Ashley Judd said of her mother to the crowd while crying.  Wynonna Judd talked about the family gathering as they said goodbye to her and she and Ashley Judd recited Psalm 23.  Said Wynonna: "Though my heart is broken I will continue to sing." On the eve of the induction ceremonhy, the family said in a statement that Naomi Judd died at the age of 76 due to "the disease of mental illness."
Many performers paid tribute to the Judds during the ceremony, including country singer Carly Pearce performing The Judds 1986 hit "Grandpa (Tell Me 'Bout the Good Old Days)," and the duo of Gillian Welch and David Rawlings covering their No 1 hit from 1989 "Young Love (Strong Love)". Tommy Simms sang their classic song, "Love Can Build a Bridge;" Brandi Carlile had been scheduled to sing "Love Can Build a Bridge" at the medallion ceremony, but had to withdraw from the performance after being diagnoses with COVID-19.  Carlile posted an Instagram video Sunday with an at-home rendering of the tune, recorded alongside her daughter.
Editorial credit: Joe Seer / Shutterstock.com