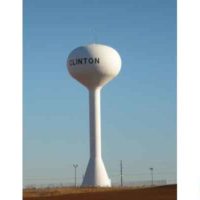 September 28, 2021
By News Director Jared Atha
The Clinton City Council is scheduled to meet in special session tonight.
Two items the council will consider include the acceptance of a professional engineering services proposal from Garver, an engineering firm officed out of Norman, for the preparation of a feasibility study and cost estimate for the possible construction of water resiliency infrastructure between the Cities of Clinton and Weatherford.
A description of the proposed agreement between the two cities and Garver says the project is aimed at building water resiliency between both cities, and could also provide opportunities for other Custer County communities.
Garver says the project is similar to a project for the City of Enid which includes nearly 70 miles of water pipeline.
The Council will also consider a proposed adjustment to the financial terms of a lease agreement with American Towers.
Tonight's special meeting inside Clinton City Hall is scheduled to begin at 5:00 p.m.
A check of the City of Weatherford's official website did not show a special meeting planned for the Weatherford City Council, however they are scheduled to meet in regular session on Thursday morning at 8:00 a.m. As of press time, no agenda has been posted.
Copyright 2021 Paragon Communications. All rights reserved. This material may not be published, broadcast, rewritten, or redistributed without permission.