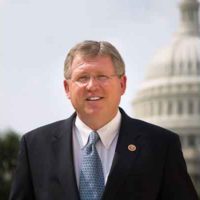 April 15, 2021
By News Director Jared Atha
Congressman Frank Lucas (OK-03) from Cheyenne along with U.S. Senator Jim Inhofe (R-Okla.), and U.S. Senator James Lankford (R-Okla.) sent a letter this week to President Biden urging him to suspend the executive order to close down prisons, including the Great Plains Correctional Institution located in Hinton.
In part, the members said in the letter that they urge the President to suspend the January 26, executive order to close down prisons, including those housing criminal aliens. The Great Plains Correctional Institution is among those the administration has targeted.
The letter went on to say that the Great Plains facility plays an important role in ensuring criminal aliens serve their sentences and are released to Immigration and Customs Enforcement so that they may be deported to their home countries. The Congressman and Senators says that justice must be served before criminal aliens are deported. The leaders said in the letter that closing the Hinton facility sends the signal to communities across the nation that justice for victims is not the President's top priority.
Read the full letter here.