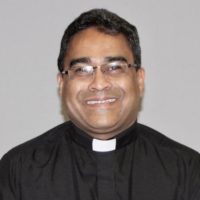 January 20, 2021
By News Director Jared Atha
A popular western Oklahoma priest has reportedly passed away due to Covid-19.
According to The Oklahoman, The Rev. Philip Louis, pastor of St. Matthew's Catholic Church in Elk City and its mission Queen of All Saints Catholic Church in Sayre, passed away Monday. He was 53.
A spokesperson with the Archdiocese of Oklahoma City said Louis was visiting family in India when he became ill with Covid-19. Officials say the priest died in a hospital in India.
The Oklahoman said Louis was ordained to the Catholic priesthood in 1995 in Nellore, India.
According to the Enid News & Eagle, the priest previously served at St. Gregory the Great Catholic Church and St. Francis Xavier Catholic Church in Enid. He also once served at St. Michael Catholic Church in Goltry.
The priest told the Enid newspaper that he once served briefly with Mother Teresa. The news outlet reported that Louis was in his 26th year as a priest and was serving in his 12th assignment at the time of his death.