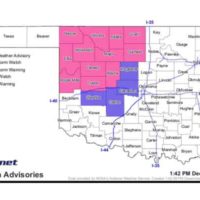 December 1, 2020
By News Director Jared Atha
Winter weather returns to western and northwest Oklahoma Wednesday.
Fortunately this time around ice accumulations are not expected to cause a problem throughout the region, as this winter event is expected to bring snow and rain.
KOCO meteorologist Michael Armstrong says starting Wednesday at noon, a winter storm warning has been issued by the national weather service for area counties including Roger Mills, Custer, Dewey and Ellis.
Armstrong says travel could become an issue in parts of northwest Oklahoma, but expects lighter snow accumulations the closer the storm gets to the I-40 corridor in western Oklahoma.
Washita County along with Caddo County will be in a winter weather advisory Wednesday at noon as well.
Both the winter storm warning and advisory are set to expire Thursday at noon.