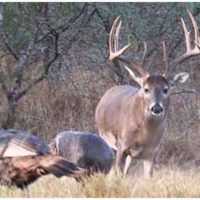 November 20, 2020
By News Director Jared Atha
The state's most popular hunting event – Deer Gun season begins tomorrow across Oklahoma.
Local Game Warden Lt. James Edwards says all hunters must have a hunting license and deer tag in order to hunt. He says technology has made it easier to obtain the necessary documentation. Edwards says anyone can go to license.GoOutdoorsOklahoma.com by using their phone or computer to purchase what they need before they go out and hunt.
Edwards also reminds hunters of what is required to be worn while hunting. He says a "daylight florescent orange" colored vest and hat are required to be worn at all times during gun season.
Lt. Edwards says with the Go Outdoors Oklahoma app, a hunter who has just taken a deer can easily check in their game from their phone – however they'll have 24 hours to do so.
This year's season will begin at daybreak, which is at 7:19 tomorrow morning and run through December 6.