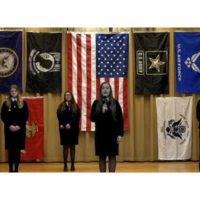 November 11, 2011
By News Director Jared Atha
Sounds of the Elk City High School Choir who were featured in the Veterans Day Program, virtually.
Although during a pandemic, local schools throughout the area still honored local heroes this Veterans Day by use of technology.
Many schools, including Elk City, created virtual programs this year highlighting local veterans including Specialist with the U.S. Army, Alexander Stanley. The virtual program allowed Specialist Stanley to still tell his story of how and where he served.
In Granite, the FFA along with Paragon TV produced speeches regarding the holiday. Student Connor Brooks' speech stressed the importance of showing all veterans respect.
Other local school districts that held virtual Veterans Day programs included Canute, Hammon, Merritt, and Sayre.