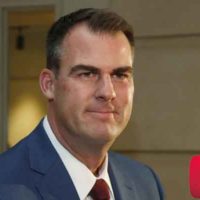 October 30, 2020
By News Director Jared Atha
During his appearance on Exploring Energy with Shawn Wilson and Butch Black, Oklahoma Governor Kevin Stitt voiced his opinion on State Question 805.
If passed, SQ 805 would prohibit a person's former non-violent felony convictions from being used to enhance the person's sentence. In other words, the measure would not allow a convicted person's sentence to be made longer or harsher due to past felony convictions. The measure would provide for sentence reductions for eligible individuals that are serving or are set to serve sentences that were enhanced due to past felony convictions.
Gov. Stitt says SQ 805 is bad for Oklahoma, saying out-of-state groups have funded the campaign to adjust the state's constitution and define what a non-violent crime is.
In a press release, Beckham County Sheriff Derek Manning has voiced his opposition to the measure as well.
Manning said instead of passing SQ 805, that aims at reducing the volume of people incarcerated, Oklahoma should focus on supporting drug counseling programs, in-house rehabilitation programs, and mental health facilities and beds.
Voters will decided on SQ 805 on Tuesday during the general election.