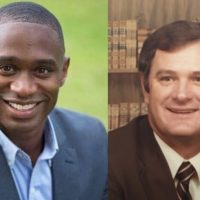 September 11, 2020
By News Director Jared Atha
The 2020 Elk City Leadership Hall of Fame inductees will be honored tonight (Friday) at halftime of the Elk City high school football game.
This year's two inductees include the late John Barton O'Hara and Dr. J.P. Smith.
An Elk City graduate, O'Hara made a mark in the football coaching world by starting his career at Mangum as the head coach in 1967. He coached the tigers for one year before becoming the offensive line coach at Amarillo Palo Duro High School for two seasons. He then took on the offensive coordinator role at Midland Lee High School in west Texas – his last high school job. The Baylor Bears would come calling in 1973, where he would become the offensive coordinator in Waco for the next nine years. His first and only head coaching job at the college level was at Texas State University, where he served as their leader from 1983 to 1989. In 1990 the Iowa Hawkeyes hired O'Hara to become their offensive line coach. While on the coaching staff at Iowa, the Hawkeyes played in the Rose Bowl and the Holiday Bowl.
Tragically in February 1992 O'Hara died at the young age of 48 from a heart attack. Leaving behind his wife, Saundra Cutright O'Hara – who is originally from Canute, and three kids, Chad, Koby and Shelley.
Dr. Smith, a 1991 Elk City Graduate, enlisted in the Army in 1994 where he rose the ranks to become an Army Chaplain in 2005. Dr. Smith holds a Bachelor's degree in psychology, a master of divinity degree, a master of theological studies degree, and a Ph.D. in organizational leadership from Regent University.
Dr. Smith served three combat tours in Iraq and Afghanistan. His Military awards include the Bronze Star, the Meritorious Service Medal, the Army Commendation Medal, the Joint Service Achievement Medal, the Army Achievement Medal, the Valorous Unit Award, the Meritorious Unit Award, the Army Good Conduct Medal, the Parachutist Badge, the Air Assault Badge, and the Combat Action Badge for close combat action with enemy forces while deployed.
Dr. Smith currently serves as the Command Chaplain for the 7th Infantry Division, Joint Base Lewis-McChord, Washington, serving fourteen thousand soldiers and leaders.