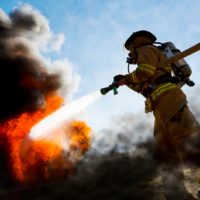 September 1, 2020
By News Director Jared Atha
State Rep. Todd Russ of Cordell commented recently on the announcement that the Oklahoma State Fire Marshal's Office has awarded grants to two fire departments in District 55 – the district represented by Russ.
A grant for wildland personal protective equipment has been awarded for the Bessie and Sentinel Fire Departments, both in Washita County. The equipment, including bunker gear, wildland gear and other protective clothing, was delivered to both fire departments on Wednesday.
Russ expressed his gratitude to see some of the contribution dollars flowing back to the fire departments in the from of the personal protective equipment.
Grant funding for the equipment comes from state income tax credits that go to the fire marshal's office, which then awards grants to volunteer fire departments across the state. The number of grants is dependent upon the amount of money available. Fire departments across the state applied for the grants.