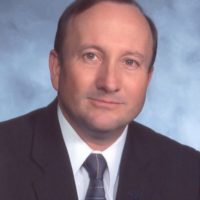 August 25, 2020
By News Director Jared Atha
Southwestern Oklahoma State University President Randy Beutler has announced he will close out a 35-year career in education and public service with his upcoming retirement effective June 30, 2021.
In a press release from the school, Beutler will have served nearly 12 years leading the institution, becoming the third longest-serving president in SWOSU history. Beutler was named the 17th president of SWOSU in February 2010.
Beutler said that he would continue to help guide the school through the challenges posed by the coronavirus pandemic. He said he has been contemplating a retirement date for some time.
Under his leadership, SWOSU has seen many projects and milestones accomplished. The largest building project in the history of the university was completed under his watch. The 93,000 square foot Pioneer Cellular Event Center was opened in January 2014. In addition, the ground-breaking partnership with Yukon Public Schools was conceived and implemented during Beutler's tenure. He has also worked closely with the President's Leadership Class, which he developed while working under former SWOSU President John Hays.
As to his plans in retirement, Beutler said he looks forward to being able to spend more time at his ranch and also working on his historical research and writing.
Prior to being named president of SWOSU, Beutler taught history and government for several years at Weatherford High School. In 1992, he was elected to the Oklahoma House of Representatives for District 60. During his tenure there, Beutler rose to the position of Majority Whip. He currently is a partner in Beutler-Redd Ranches, Limited, a cow-calf ranch that operates north of Elk City.