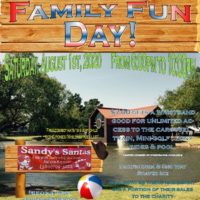 July 31, 2020
By News Director Jared Atha
Sandy's Santa's 2nd Annual Family Fun Night returns Saturday night to Elk City's Ackley Park.
Organizer Sandy Hageman says all of the parks exhibits including putt-putt, the carousel, and the train will all be open for use with the purchase of a $7 wrist band.
Hageman says the non-profit organization raises money for schools and families in need throughout the area.
Hageman says Sandy's Santa's services the Elk City, Erick, and Canute school districts.
Saturday's Family Fun Night in Ackley Park is scheduled to begin at 6 p.m. and wrap up at 10 p.m.