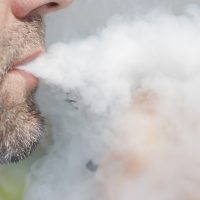 December 4rd, 2019
By News Director Jared Atha
A Clinton man and woman have been charged with 3 counts of distribution of a controlled dangerous substance – including possession with intent to distribute after a large amount of marijuana and marijuana paraphernalia were found in a home.
According to a probable cause affidavit, after obtaining a search warrant, police found two and a half pounds of marijuana, eight pounds of THC marijuana edibles, and over 200 THC marijuana vaping device cartridges. Officers also found digital scales. Upon further investigation it was determined that occupants of the home were 27-year-old Spencer Damon Kimble and 21-year-old Alyssa Williams. Kimble has been charged in Custer County District Court and a warrant has been issued for his arrest. Bond has been set at $50,000.
Williams was located, and arrested three days after the search of the home. A phone in her possession indicated that she was allegedly in contact with potential buyers of the illegal substances.
Her next court appearance is Friday, December 6th.