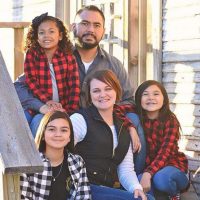 December 3rd, 2019
By News Director Jared Atha
Another Clinton citizen has thrown their hat in the ring for the soon to be vacant Oklahoma State House of Representatives District 57 seat.
Former assistant district attorney Juan Garcia, who now serves as a tribal court judge and practices law in Clinton announced in a news release recently that he intends to seek the seat that will be vacated by Harold Wright. Wright will be term limited at the conclusion of the 2020 Legislative Session. Garcia, who obtained a history education degree from SWOSU and a law degree from Oklahoma City University says he's anxious to address issues at the state capitol if elected.
Garcia is no stranger to leadership roles. He has served the community through numerous organizations, including the Clinton Public Schools Foundation, Multi-County Youth Services board, SWOSU Alumni Foundation Board of Trustees, Action Associates board, the Washita/Custer Drug Court Team, Oklahoma Vocational Rehabilitation board, Western Plains Library System board, Western Oklahoma Football Club board, Board of Bar Examiners, Custer County Bar Association, and Clinton Kiwanis Club.
This isn't the first Clintonite seeking the District 57 seat. Anthony Moore, also an attorney, announced in October his intention in running for the seat.
If Garcia were to draw a democratic challenger on the ballot, the primary election is scheduled for June 30th, with a runoff election on August 25th, if needed. The general election will be November 3rd, 2020.