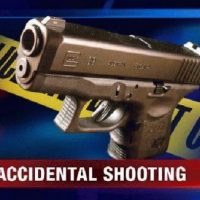 December 2nd 2019
By News Director Jared Atha
A deer hunt turned traumatic for one man in Roger Mills County after accidentally shooting himself in the leg.
According to a press release from the Oklahoma Department of Wildlife, the incident occurred on the evening of Saturday, November 23rd on Black Kettle National Grasslands north of Reydon when a 28 year old man was accidentally shot in the lower left leg with a 45 caliber revolver.
The press release stated that the man and several others were camping in the area when while collecting firewood had dropped a glove. While bending over to pick up the glove, the man's revolver fell from a holster. The firearm struck the ground with the hammer striking the ground first, causing the firing pin to be bumped and discharging the round of ammunition. It stated that the projectile struck the man in the middle left front shin area and exited the upper rear calf area of his left leg. Minor damage to tissue was the main injury with a minor fracture to one bone in the leg. The man was transported by ambulance to the Roger Mills Memorial Hospital in Cheyenne and later transported to OU Medical Center in Oklahoma City via Helicopter. He was treated and released.
No other campers were injured. The name of the victim has not been released.