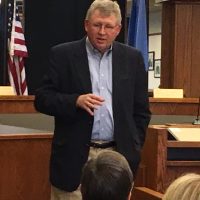 October 9, 2019
By Paragon News Director Paul Joseph –
US Congressman Frank Lucas is making a swing through Western Oklahoma.
Lucas, Oklahoma's 3rd District Congressman from Cheyenne, will be in Beckham and Roger Mills Counties on Thursday following stops earlier this week in Custer, Ellis, Caddo, Dewey and Blaine Counties.
Lucas is set to appear Thursday in Elk City at the Elk City City hall for a one-hour meeting at 2 pm before he heads out further west to his home county of Roger Mills. He's set to meet voters at the Washita Battlefield in Cheyenne at 4 pm for another one-hour meeting.
In a recent news release, Lucas encourages residents to attend and share their thoughts on current events in Washington and in Oklahoma.
He's set to discuss his recent work in Congress in addition to taking questions about issues that voters feel are important to the Third District.
Lucas says he's also wanting input on legislation currently before Congress.
– 30 –